Travel Information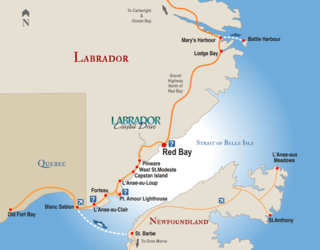 Labrador Coastal Drive
Red Bay is located along Labrador Coastal Drive, a driving route through the southern region of Labrador, Canada.
The region includes 21 small coastal communities, established in the 19th century and focused on the rich maritime resources of the North Atlantic Ocean. The region has a remarkable history of European exploration and seasonal settlement prior to 19th century, and offers evidence of 9,000 years of aboriginal occupation.
Along Labrador Coastal Drive there are interpretation centres, walking trails and historic sites that let you discover our unique natural environment and history of human occupation.
Learn more about our region at
www.labradorcoastaldrive.com
.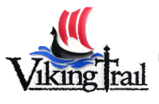 Getting Here
From the Viking Trail
Labrador Coastal Drive is accessible from the south via a drive-on, drive-off ferry service from northern Newfoundland. This region of Newfoundland, known as the
Viking Trail
, offers much for the traveller -- including World Heritage Sites at L'Anse au Meadows and Gros Morne National Park.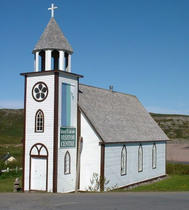 The ferry crossing from Newfoundland -- on board the MV
Apollo
-- is approximately 1.5 hours, and provides an opportunity for viewing seabirds, whales and icebergs. There is a full-service cafeteria and reclining chairs where you can relax. More information, including schedules and rates, is available here:
St Barbe - Blanc Sablon Ferry Service
.
You disembark at Blanc Sablon, Quebec, just a few minutes drive from the Labrador-Quebec provincial border. It's an easy 1.5 hour drive to Red Bay, but you may want to make some stops along the way.
The
Gateway to Labrador
in L'Anse au Clair provides an introduction to all that the region has to offer. Historic
Point Amour Lighthouse
provides not only a terrific seascape view, but also a glimpse into 19th century life.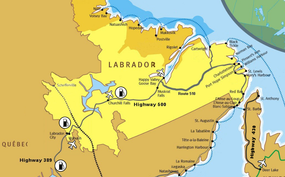 From the North, via the Trans Labrador Highway
Labrador Coastal Drive is now accessible from continental North America via the Trans Labrador Highway.
Highway Route 389 in eastern Quebec connects to Trans Labrador Highway Route 500 in western Labrador. From there, Route 500 extends across the western interior of Labrador to Happy Valley-Goose Bay in central Labrador.
From Happy Valley-Goose Bay, Route 510 travels the eastern interior of Labrador and then enters the southern coastal region of Labrador Coastal Drive.
A
User Guide for the Trans Labrador Highway
(PDF, 1.3MB) is provided by the
Town of Happy Valley-Goose Bay
website.