Restaurant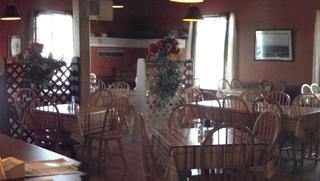 Whalers Restaurant
The Whalers Restaurant, known for our homemade food and fish and chips, is like the community of Red Bay itself, also filled with history. The restaurant is decorated with mementos of traditional Labrador life and culture as well as the community's Basque heritage. You will find the Basque Flag hanging in the dining area and if you look around closely you will see old whale bones, carvings and an assortment of antique and traditional items collected by the owners. Many of the artefacts relate to Dr. Grenfell and the Red Bay Co-op.
The Whaler's Restaurant received a Trip Advisor Award of Excellence in 2014 for consistently good reviews. Visit our
Tripadvisor
page to see!
Try our famous
Chalupa Fish and Chips
when you visit and don't forget to ask about our daily specials of local favourites. All of our deserts are homemade, many of them made with hand picked wild berries – bakeapples, partridgeberries and blackberries. If you are hiking or planning a picnic, boxed lunches are also available.
The dining area can comfortably sit 60 people, to host bus tours and private parties.